CURRENT PROGRAM – SATURDAY, May 20, 2017

Therefore, having been justified by faith, we have peace with God through our Lord Jesus Christ, through whom also we have obtained our introduction by faith into this grace in which we stand; and we exult in hope of the glory of God. Romans 5:1-2
This year marks the 500th anniversary of the beginning of the Protestant Reformation, an era that reformed the Christian faith and changed the world. It started on October 31, 1517 when German theologian Martin Luther nailed his 95 Theses on the door at Wittenberg Castle church, protesting the abuses and errant doctrines of the dominant Roman Catholic Church.
Along with the debate over authority—Scripture v. the Roman Catholic Church—the debate over how one is justified (i.e. declared righteous by God) was a major flashpoint. Some Reformers were martyred for their belief that justification was by faith alone in Christ alone by God's grace alone and not by faith PLUS keeping the sacraments of the Roman Catholic Church, particularly baptism.
This weekend on The Christian Worldview, Troy Dobbs, senior pastor of Grace Church in Eden Prairie, MN and a keynote speaker at our Fall Conference on Sept. 15-16, joins us to discuss the Reformation, the critical doctrine of justification, and why all of this is just as relevant today.
Office: 1-888-646-2233
Studio: 1-877-655-6755 (LIVE only)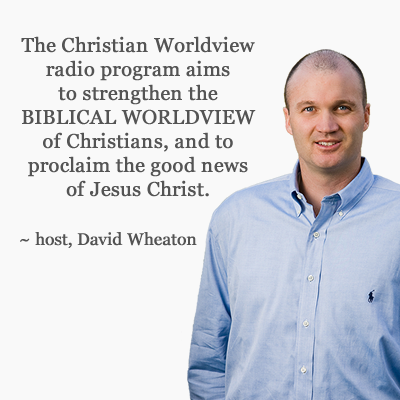 Saturday, May 13, 2017

Mother's Day Special Interview
Guests: Bruce and Mary Jane Wheaton
Saturday, May 27, 2017

TOPIC: TBD
Week of May 22, 2017

The Reformation and Justification
FEATURED STORE ITEMS
Summer Reading Sale – Lowest Price of the Year!
Looking for good books to read this summer? Then order a copy of My Boy, Ben: A Story of Love, Loss, and Grace by David Wheaton and be impacted by the message of God's grace told through the true story of a young man and his beloved dog.  And, if you know a student in high school or college, give them University of Destruction: Your Game Plan for Spiritual Victory on Campus, also by David Wheaton.
Both books are available at the lowest price of the year through June 24, 2017!  (E-book and audio versions available as well.)  Signed and personalized, they make great gifts!
My Boy, Ben by David Wheaton

My Boy, Ben is a "dog book" … and much more. Some of life's biggest questions are explored: Why is there so much pain and suffering in the world? Can we know God's purpose in our trials? How does God's grace and the gospel offer comfort, strength, and hope when we encounter difficult loss?
(hardcover, 264 pages)
University of Destruction
by David Wheaton

As many as 50 percent of Christian students say they have lost their faith after four years in college. What begins as a University of Instruction ends up being a University of Destruction.
Help the student in your life be an Overcomer!
(softcover, 176 pages)
TCW BULLETIN BOARD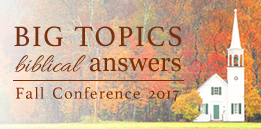 Friday evening, September 15, and
Saturday morning, September 16, 2017
This year's conference will feature two themes: "World Events, Islam, and the Clash of Civilizations" and "The Reformation and Justification".
There will be two speaking sessions on Friday evening, and then on Saturday morning, a LIVE broadcast of The Christian Worldview radio program followed by two more speaking sessions. Each speaking session will conclude with time for questions and answers.
The keynote speakers are Soeren Kern, a geopolitical analyst and FOX News guest, Troy Dobbs, the senior pastor at Grace Church, and David Wheaton, host of The Christian Worldview…
 ————–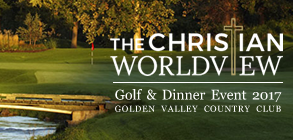 Monday, September 18, 2017
Whether you are a golfer or non-golfer, you are invited to join us for a special time of fellowship and support of The Christian Worldview.
Golf registration includes lunch, golf, cart, range, gift, and dinner event. Dinner-only registration includes meet-and-greet and dinner event.
Just minutes from downtown Minneapolis, Golden Valley Country Club is recognized as one of the top golf courses in the state…
Save
Save
Save
Save
Save
Save
Save
Save
Save
Save
Save
Save