CURRENT PROGRAM – SATURDAY, November 16, 2019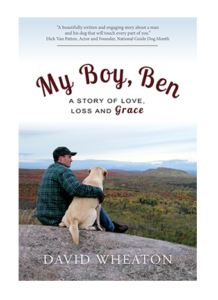 It has been 5 years since the release of David Wheaton's book, My Boy, Ben. 
In that time we have received wonderful notes and emails from readers grateful for the impact of the story on their lives.
In honor of this milestone we are launching a new website featuring the hardcover and ebook versions.  For the next week we will be offering an autographed hardcover copy for $14.34 (retail price $18.99) with FREE shipping or the ebook for $9.99!
** Personalization of the book is available as well making it a wonderful gift for the dog-lover in your life… or the person who needs to hear about God's grace and the gospel."
Subscribe to TCW Weekly Email