2023 TCW Online Auction ~ Extended Time!
To place bid, send a text message to 952-474-2200 with your first and last name, the auction item number, and your bid amount. E.g. David Wheaton, Item 7, $250. For each subsequent text/bid you do not need to include your name, just item number and bid. Your name will NOT be posted on the bid sheets. That is for our internal use only.
Current high bid will be posted on auction page.
If you are bidding on a large item from out-of-state, please understand that we will need to add the cost of shipping to your winning bid.
Auction ends Mon, Sept. 18 at 6:00 PM Central Time.
All proceeds from the auction go to support The Christian Worldview Radio Program. Thank you!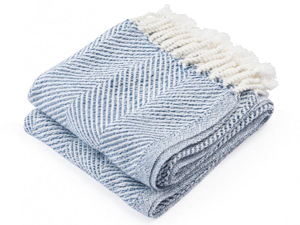 #12: Fairbault Mill
Cotton Throw With Fringe
Starting Bid: $200