And so the angel said to them, "Do not be afraid; for behold, I bring you good news of great joy which will be for all the people; for today in the city of David there has been born for you a Savior, who is Christ the Lord." Luke 2:10-11
Three news stories dominated the headlines in 2020:
The spread and response to COVID-19
Social unrest and violence over "systemic racism"
The Presidential election with ongoing allegations of voting fraud
While a virus, racism, and an election may not seem related to one another, the first two were cleverly used to effect the outcome of the third…and thus shape the future of our country.
This weekend on The Christian Worldview, we'll look at these issues that took center stage this year in order to prepare for the new year and a potential new political administration. We will also discuss how a compromised evangelical church has contributed to our current situation. And finally, we'll discuss how hope in the Christ of Christmas brings peace in the midst of our uncertainty.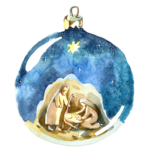 ---
Note: This will likely be our final LIVE program of 2020. On behalf of The Christian Worldview, thank you for your support and encouragement this year and we hope you and your loved ones have a wonderful Christmas focused on "a Savior, who is Christ the Lord" Luke 2:11.
Related Message:
How to Live in a Crooked and Perverse Generation
John MacArthur • Phil 2:12–16
2020 Year-End Letter from The Christian Worldview

"Dear Friends of The Christian Worldview,
It doesn't seem like a stretch to conclude that a tectonic shift is taking place in America…"