** This program was previously aired 11/27/21 but the DVD offer is available again for a short time.
GUEST: DR. JERRY NEWCOMBE, producer, The Pilgrims documentary
A small group of biblical Christians known as the the Pilgrims are widely considered to be "the founders of America".
Numbering only about 400-500 souls, they had fled religious persecution in England to settle in Holland. But after ten years there, they decided on another move across the Atlantic Ocean to an unknown land that would become the United States.
About 50 Pilgrims were on the first vessel called The Mayflower, arriving in modern-day Cape Cod in Massachusetts in November 1620. One year later in November 1621, after a brutal winter in which many of them died, they celebrated a bountiful harvest with local Indians who had helped them in what has become known as the first Thanksgiving.
The Pilgrims and their biblical beliefs which led directly to the principles of the Declaration of Independence and U.S. Constitution 150 years have been mostly forgotten by the majority of our population. "Separation of church and state" is a sacrament of mainstream society today…but it wasn't to the Pilgrims. They said they came to America "for the glory of God and the advancement of the Christian faith."
Dr. Jerry Newcombe, producer of the documentary film, The Pilgrims, joins us this Thanksgiving weekend on The Christian Worldview to discuss the Pilgrims' story and what they believed and lived by. For in them we have an example for how we can live in our pilgrimage in a contrary world.
The Pilgrims DVD for a donation of any amount: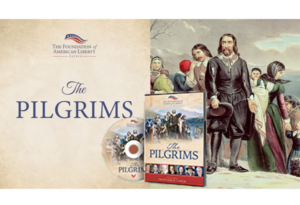 "The Pilgrims," says Dennis Prager, "created America for all intents and purposes."
The recent war on history threatens to erase America's past.  Filmed for the 400th anniversary of the first Thanksgiving, this documentary THE PILGRIMS, sets the record straight. Discover how they laid the groundwork for the liberty we still enjoy today.