GUESTS: BRUCE and MARY JANE WHEATON, parents of host David Wheaton
Wisdom is thinking and living according to God's will and ways. Foolishness is the opposite—thinking and living as if God doesn't exist and that we aren't accountable to Him.
The Bible often contrasts wisdom and foolishness. In fact, Jesus concluded His most well-known message, the Sermon on the Mount, with this exhortation:
"Therefore everyone who hears these words of Mine and acts on them, may be compared to a wise man who built his house on the rock. And the rain fell, and the floods came, and the winds blew and slammed against that house; and yet it did not fall, for it had been founded on the rock. Everyone who hears these words of Mine and does not act on them, will be like a foolish man who built his house on the sand. The rain fell, and the floods came, and the winds blew and slammed against that house; and it fell—and great was its fall" (Matthew 7:24-27).
I have been blessed to grow up in a home and live under parents who built their lives and home on the rock of God's word. While of course not perfect, they have strived to live "according to the Book". As America became openly rebellious against God and the church went "contemporary", they didn't.
And now in the late stage of their lives—my dad is 90 and my mom is 88—they are blessed with the greatest of blessings: walking with Christ for 65 years, marriage for even longer, children and grandchildren who love and revere them, and many lives who have been impacted for Christ because of them.
This Father's Day weekend on The Christian Worldview, my aged parents will share their perspective on old age, the change in society and the church, and marriage and parenting. You will hear an uncommon perspective, one which the Bible enjoins: "Listen to counsel and accept discipline, that you may be wise the rest of your days" (Proverbs 19:20).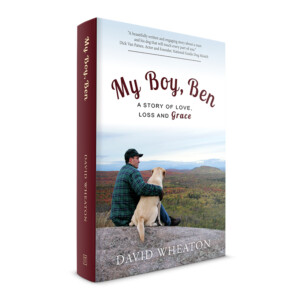 If you enjoyed today's interview with my parents then you would enjoy reading My Boy, Ben: A Story of Love, Loss and Grace. 
This true story recounts my mid-20s to late-30s when I was single and competing on the professional tennis tour and the special relationship I had with my parents and a yellow lab named Ben.  Read it, and then give it to the person in your life who needs to hear about God's grace and gospel. Maybe that person is a dog lover, someone who has gone through a difficult trial or loss, or just the person who likes a good story.
For a limited time, we are offering My Boy, Ben for a donation of any amount. You can also request the book be signed and personalized for yourself or as a gift. My Boy, Ben is owned by The Christian Worldview.
264 pgs, hardcover [retails for $24.95]