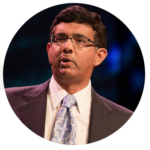 GUEST: Dinesh D'Souza, Filmmaker, 2000 Mules
After watching Dinesh D'Souza's new documentary film 2000 Mules that shows clear and widespread evidence of voting fraud in the 2020 presidential election, the only rational, beyond-a-reasonable-doubt conclusion is: Joe Biden won the election through criminal and fraudulent means.
In other words, Donald Trump should be the current president.
How did this fraud take place? Consider this quote from an official website of the government:
The COVID-19 pandemic led to a variety of changes in voting methods across the country in 2020, and the ways people could cast ballots varied widely from state to state.
In the 2020 election, 69% of voters nationwide cast their ballot nontraditionally — by mail and/or before Election Day. This is the highest rate of nontraditional voting for a presidential election…Many states maintained traditional voting procedures, but some expanded early voting, and others automatically sent all registered voters a ballot that could be returned by mail.
Millions of unrequested ballots were sent to those on voting rolls, filled out, and then placed in drop boxes throughout cities and towns before election day. What could go wrong? A lot.
Please join us this weekend on The Christian Worldview as Dinesh D'Souza, filmmaker of the must-see new documentary 2000 Mules, joins us to provide evidence—including video and cell phone geo tracking data—of how the crime of the century took place.
---
RELATED RESOURCES:
2000 Mules is showing in theaters nationwide this weekend. Go to 2000Mules.com to find a theater near you or you can stream the film online or order the DVD.