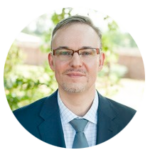 GUEST: DAVID de BRUYN, pastor, New Covenant Baptist Church (Johannesburg, South Africa)
Think back 50 years or more to how a Bible-preaching church service was depicted. There would be a father and mother standing with children at their side in a well-lit sanctuary, wearing their "Sunday best", holding hymnbooks and singing hymns of the faith.
Now think about how professing Bible-preaching Evangelical churches depict themselves today. The ubiquitous photo you'll see is silhouetted individuals, arms raised high in the air inside a dark room accented by stage lighting with a band performing in the background. The unspoken caption to the photo might as well read: "Peak worship".
Setting aside for a moment which one is better, let's ask a more basic question: "Why has there been such a major change in the first place?"
Last week in part 1 on The Pentecostalization of Christian Worship, David de Bruyn, pastor of New Covenant Baptist Church in Johannesburg, South Africa, explained how the Pentecostal or Charismatic movement—the largest and fastest-growing branch of Christianity in the world—has taken over Evangelical church services, not just with contemporary music styles but also with the objective of worship itself.
He writes, "Pentecostal authors have written that praise is a kind of 'path' into the presence of God. That is, worship is not a series of gracious revelations from God's Word with faith-responses from His people. Worship becomes a series of steps or stages, growing in intimacy and intensity. Charismatic worship writers speak of the importance of "flow": a technique of uninterrupted, continual music, designed to emotionally transport the worshippers into the climactic experience of "worship", which they deem to be more intense and focused than "praise".
This week in part 2, David de Bruyn will join us again to explain how music has been the primary entry point for Pentecostalism's influence on Evangelicalism and what effect this is having not just in music but in Evangelical beliefs and practices as well.